filmArchi Harvey Rabbit (Regie2017) hat seinen ersten Langspielfilm vollendet: "Captain Faggotron Saves The Universe" hatte auf dem International Film Festival Rotterdam seine Premiere und wurde auch mit Hilfe der filmArche co-produziert. Dank Salzgeber dürfen wir uns alle auf dieses trashig-queere Meisterwerk in den Kinos freuen!
Trailer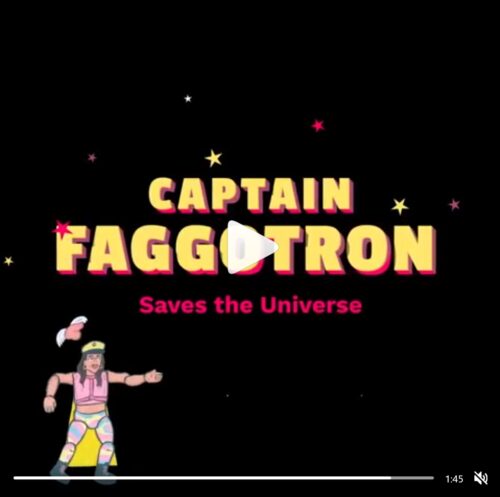 Synopsis
Father Gaylord versucht, als Priester seine Homosexualität zu unterdrücken – und scheitert kläglich. Währenddessen hat sein außerirdischer Ex-Lover Queen Bitch den kühnen Plan, die Erde mit kosmischen Zauber in einen queeren Planeten zu verwandeln. Superheld Captain Faggotron eilt zur Hilfe. Der große Knall, inklusive intergalaktischer Dämonenorgie, steht kurz bevor!
Team
Regie & Buch: Harvey Rabbit | Kamera: Nate Pischner | Szenenbild: Pussy Ranz | Musik: JC Dozal | Kostüme: Amanda Halbrock mit Unterstützung durch Carni Closet | Make-up: Caine Panik | Schnitt & Post-Production Supervisor: Maksim Mau | Illustrationen: Verena Borawski | Animation & Motion Design: Maria Lissel | Animierte Cut-outs: Rory Midhani | Produzent: Harvey Rabbit | Koproduzent:in: Vanessa Júpiter | Eine Produktion von Transmenace | in Verbindung mit Filmarche e.V.  | im Verleih von Salzgeber
---
filmArchi Harvey Rabbit (directing2017) has completed his first feature film: "Captain Faggotron Saves The Universe" premiered at the International Film Festival Rotterdam and was also co-produced with the help of filmArche. Thanks to Salzgeber, we can all look forward to this trashy, queer masterpiece in theaters!
Trailer

Synopsis
Father Gaylord tries to suppress his homosexuality as a priest – and fails miserably. Meanwhile, his alien ex-lover Queen Bitch has an audacious plan to use cosmic magic to turn Earth into a queer planet. Superhero Captain Faggotron rushes to the rescue. The big bang, including an intergalactic demon orgy, is imminent!
Team
Director & Writer: Harvey Rabbit | Cinematographer: Nate Pischner | Production Designer: Pussy Ranz | Music: JC Dozal | Costumes: Amanda Halbrock with assistance from Carni Closet | Makeup: Caine Panik | Editing & Post-Production Supervisor: Maksim Mau | Illustrations: Verena Borawski | Animation & Motion Design: Maria Lissel | Animated Cut-outs: Rory Midhani | Producer: Harvey Rabbit | Co-Producer:in: Vanessa Júpiter | A production of Transmenace | in association with Filmarche e.V. | distributed by Salzgeber
Translated with www.DeepL.com/Translator (free version)
---